What if taking your lovemaking to new heights of ecstasy and
pleasure was as easy as pressing the "PLAY" button?
Great news! Now it can be! Listen as Ellen Eatough,
The Soulful Sex Coach, reveals exactly how …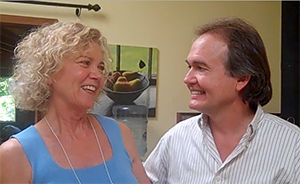 Make sure you're getting the inspiration that Ellen provides… Having regular sex ultimately is proven to be the most effective anti-aging treatment there is.
— John Gray, PhD Best-selling author of Men are from Mars, Women are From Venus
Pssst…. Hey! It's Ellen. The Soulful Sex Coach. If you happen to be someplace where listening to my informative video would be ah… frowned upon, scroll down for the silent version of what I revealed…
"If you're seeking a sexual experience that includes deeper intimacy, greater spontaneity, faster arousal, easier and more numerous orgasms for women, even mind-blowing full-body extatica-style orgasms for both partners, yes they are possible, then you're in the right place because I have great news for you!
In my over 20 years helping people achieve fulfilling intimate relationships and the kind of ecstatic lovemaking that leads to a whole-body experience of physical bliss, emotional intimacy and spiritual union – I've never seen anything like what I'm about to share with you.
It's an amazing and little-known proprietary technology called Auditory PheromonesTM. I've been using it as part of my programs for years, but what I've only just come to discover is that this technology is so powerful that it can instantly, at the touch of a single button, uplevel your current sexual experience from OK to extraordinary, from blah to mind-blowing, from good to well… just how much juicy delicious good would you like???
Want to learn more about this exciting sexual enhancement technology AND how you can begin transforming your lovemaking at the touch of a button?
Simply enter your name and best email in the form at the bottom of this page, and you'll receive instant access to an informative video (pssst ~ I'll also send you an email link so you can watch it later), including the fascinating story of how this technology was discovered and developed, and why now it has caught the attention of a team of research scientists with a study currently underway!
I'll also share my personal journey of discovering transcendent sexual pleasure plus titillating stories from people just like you who are now experiencing sex beyond their wildest dreams — thanks to Auditory Pheromones.
Don't delay, because I'm also going to share with you how you can bring this potent proprietary technology into your own bedroom (or any room you choose!) at a special introductory price. If you'd like to give your ho-hum sex life an instantaneous, dramatic lift, or transform your "good" sex life to something positively mind-blowing, enter your name and best email now, and I'll see you on the other side."